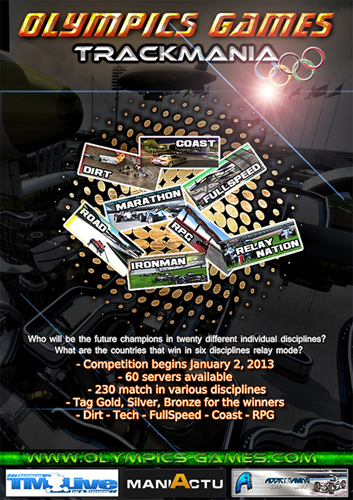 - The team ADDICT.Gaming invites you to participate in the Olympics of Trackmania.
Olympics will begin in January to end in Mars.
- 20 events in individual are planned on Dirt, Tech, Fullspeed, RPG and Coast.
- 6 events in teams are planned on Dirt and Tech.
- 230 matches to the program.
- 60 set up Servers.
- Every Driver will have the right to join 3 individual competitions and to participate in 1 event in team. What will be the drivers who will be divided 20 Tag GOLD, SILVER and BRONZE on the various disciplines? You!!!
- What will be the strongest nations in 6 events in team?
- Get ready, do not miss this event which will gather all the Trackmania community.
- Players Partners: Dignitas Carl Jr , VodR Alban , ESU Kilburn
Link :
http://www.olympics-trackmania.com/
The late registration is scheduled in 1 month.
400 players have registered so far in the various events.
Not registered yet? Go for it.